Biggest Powerball Jackpots
Biggest Powerball Jackpots
Powerball is famous for its big jackpots and has regularly set records since the game's launch in 1992. There are hundreds of thousands of Powerball winners in every draw, with a jackpot that starts at $20 million and keeps growing until it is won.
Read on to discover the top 10 biggest jackpots in Powerball history. Find out everything about the game's biggest winners, including where they purchased their tickets and what they planned to do with their new-found wealth.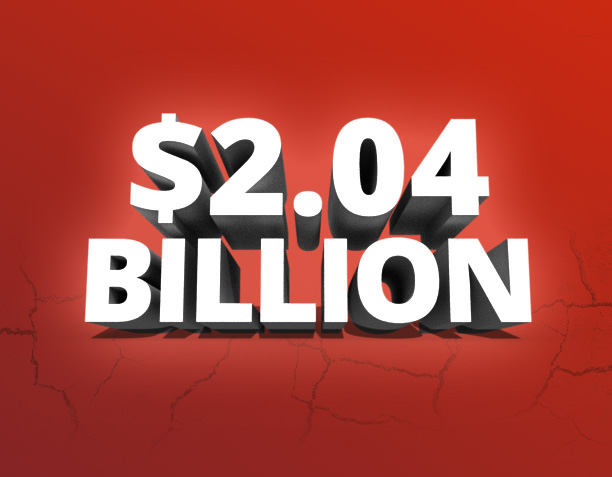 1. $2.04 billion - November 7, 2022
Lottery history was made in this draw as it was the first time that the jackpot for Powerball, Mega Millions, or any other game, had ever gone above $2 billion.
The final figure was $2.04 billion after a late surge of ticket sales. The high level of interest even caused one lottery, Minnesota, to experience a technical delay in processing its data that led to the draw being held up until the next morning.
A single player was revealed to be the winner. The ticket was bought in California, at a gas station in Altadena. The winner was left with a choice of $2.04 billion as an annuity, or a one-time payment of $997 million.
The winner, Edwin Castro, claimed his money the following February and decided to take the lump sum. He said it was gratifying to see that Californian schools would also benefit greatly from his win.
2. $1.76 billion - October 11, 2023
California's winning streak continued with this $1.76 billion win in October 2023, making it the second 10-figure prize to go to the state in less than three months. The lump sum value was $774.1 million. The ticket was bought at Midway Market and Liquor in Frazier Park, Kern County.
The jackpot had been growing since another Californian player won more than $1 billion in July, and another couple of draws without a winner could have seen a new record being set for Powerball's biggest prize.
The winner has one year to come forward. When they do so, they will not be allowed to remain anonymous.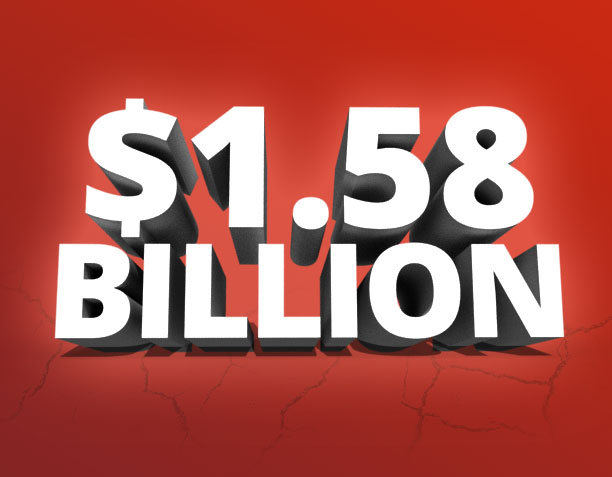 3. $1.58 billion - January 13, 2016
This prize marked the first-ever occasion that a jackpot rolled above $1 billion. It was split by three winning tickets sold in California, Florida, and Tennessee.
First to claim were Munford, Tennessee couple John and Lisa Robinson, who appeared on the Today show to tell a live TV audience that they held one of the lucky tickets. They chose to receive the cash option payout of $327.8 million. Had they opted for the annuitized prize, their share would have been nearly $530 million.
The second set of winners to surface were husband and wife David Kaltschmidt and Maureen Smith of Melbourne Beach, Florida. They claimed via the Nickel 95 Trust, which they created to manage their winnings. The couple also decided to receive their prize as a $327.8 million lump sum.
Six months after the draw, Marvin and Mae Acosta from Chino Hills, California stepped forward as the holders of the third winning ticket. The couple stated that they would donate most of the money to a Trust and to charity. The Acostas also chose to take their win as the $327.8 million cash option.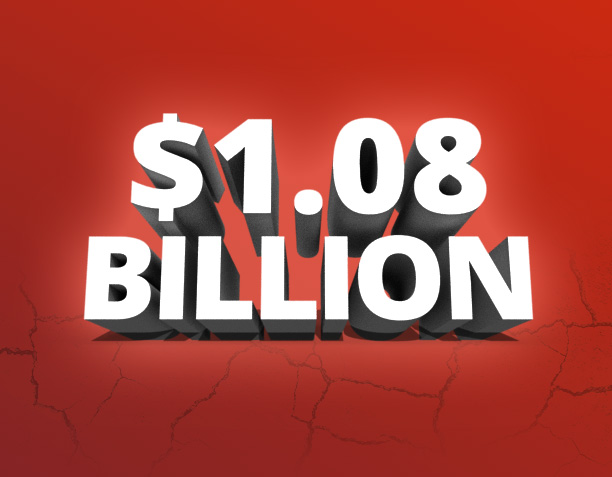 4. $1.08 billion - July 19, 2023
After having rolled over 38 times, the third-largest jackpot worth $1.08 billion was won in California, Los Angeles. The ticket was sold at Las Palmitas Mini Market and no one has claimed the prize yet. At the moment, there are no further details about the lucky winner or winners. We will update this page when more information is released. Once the winner comes forward, they will have the choice of claiming it as annuity or as a one-time lump sum payment of $558.1 million.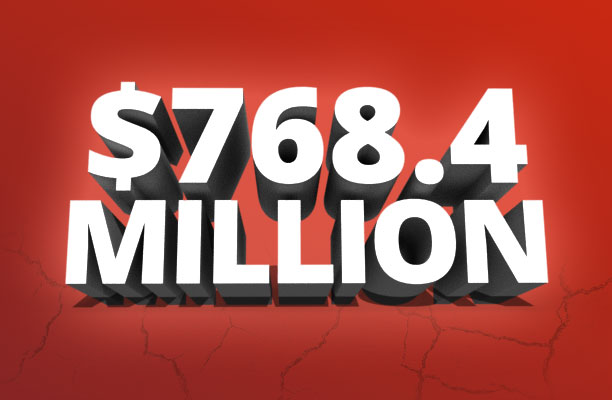 5. $768.4 million - March 27, 2019
24-year-old Manuel Franco of Milwaukee, Wisconsin was the lucky recipient of the highest lottery prize ever won by a single ticket at the time. Franco said he had a "really lucky, weird feeling" when he purchased the winning ticket. He opted for the lump sum payout of $477 million, choosing to retire and pursue his goal to "help out the world."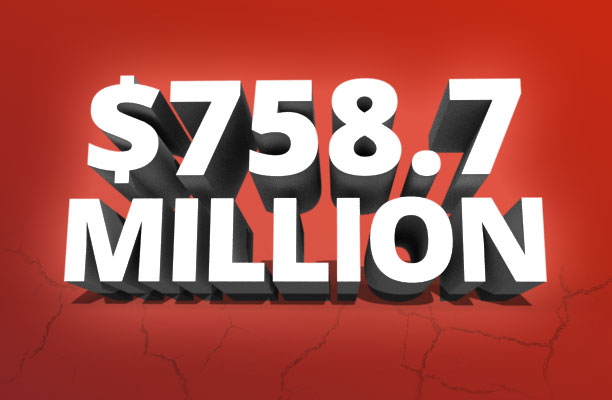 6. $758.7 million - August 23, 2017
At the time, this jackpot was the largest ever hit on a single ticket. Mavis Wanczyk from Massachusetts wasted no time in claiming her life-changing win, stepping forward the day after the drawing to collect the cash option of $480.5 million. She told lottery officials that she'd quit her job in a hospital, and her next step would be to "hide in bed"!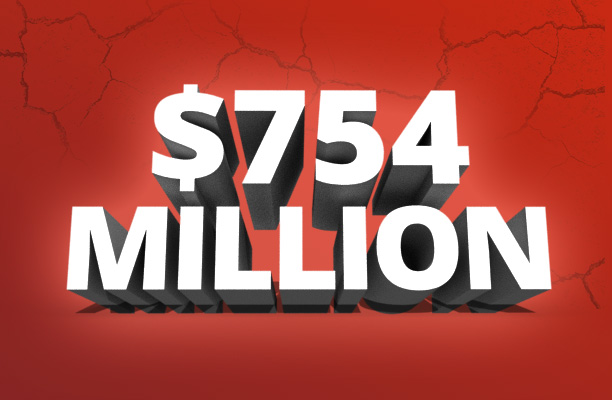 7. $754 million - February 6, 2023
Just three months after the record-breaking $2.04 billion win, the jackpot quickly soared towards 10 figures again. It did not quite make it this time, as a player from Washington matched all the numbers to snare $754 million.
It was the largest win ever in the Evergreen State – almost four times bigger than the previous record of $190 million. The cash option was valued at $407.2 million. All jackpots are taxed at federal level, but Washington is one of the places with no state withholding, giving the winner even more reason to celebrate.
Auburn resident Becky Bell claimed the cash option a few weeks later, revealing that she had never won more than $20 in her life despite being a regular player.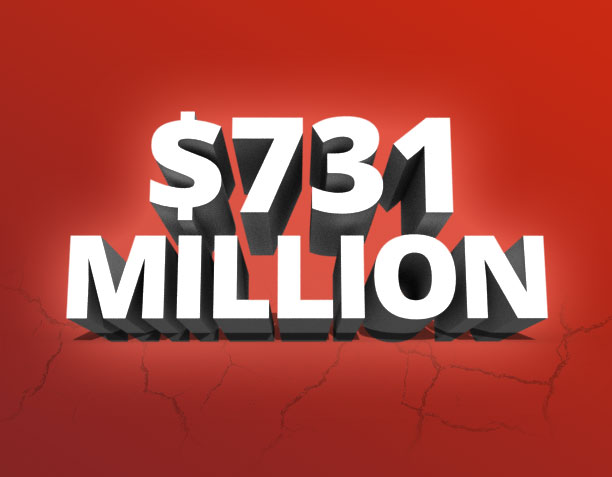 8. $731 million - January 20, 2021
The biggest prize in Maryland history went to a group of players who chose to stay anonymous, going by the name "The Power Pack." One of the group members bought their single winning Quick Pick ticket from Coney Market in Lonaconing, a small former mining town in Allegheny County. However, it took a while for their good fortune to sink in. After checking the winning numbers, the member who purchased the ticket told the rest of the group, "This can't be right. I'm going to work."
The Power Pack eventually did claim their prize in May, sharing the $546.8 million lump sum payout, less $366.6 million in federal and state tax withholdings. While they didn't plan to change the way they lived, the winners said they would invest in order to support their families and communities "for generations to come."
This incredible jackpot should definitely answer the question, "Do Powerball Quick Picks ever win?"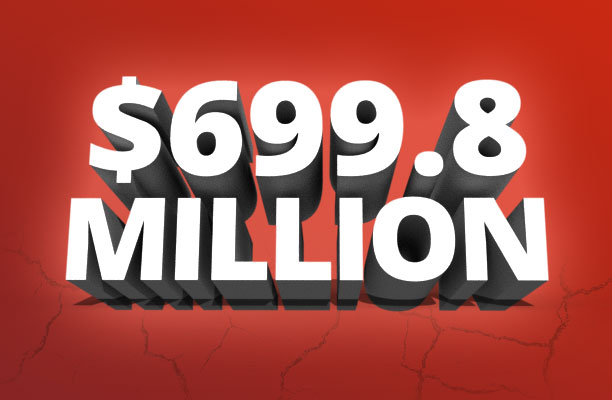 9. $699.8 million - October 4, 2021
This amazing prize was won by a single ticket purchased in California, following 40 jackpot rollovers. The cash option was valued at $496 million. The winner was eventually revealed to be Scott Godfrey, who described the win as 'a blessing'. He immediately set his sights on setting up a charitable foundation, and said he was delighted that the win would help schools in California.
This win was extra-special in a number of ways. It was the first time the jackpot was hit on a Monday since Powerball added the third weekly draw in August 2021. Not only that, but the prize was also the fifth-largest Powerball win ever, the seventh-largest US jackpot of all time, AND the biggest lottery win in California history!
The ticket was sold by Albertsons in Morro Bay, San Luis Obispo County.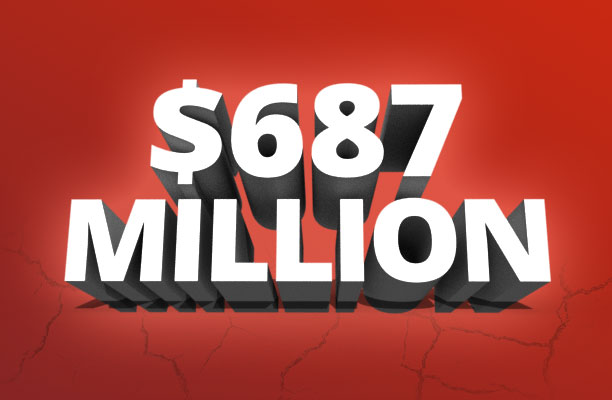 10. $687 million - October 27, 2018
Two winners shared this awesome jackpot: Lerynne West of Redford, Iowa and Robert Bailey of New York City.
After temporarily losing her ticket in her sister's truck, West was able to claim her prize, using some of the funds to create a charity named in honor of her grandson, The Callum Foundation.
Bailey, a retired government worker, faithfully stuck with the same numbers for over 25 years after receiving them from a friend - and said he's not going to stop playing his lucky picks anytime soon. Both winners chose to receive the lump sum payment of $198 million each.